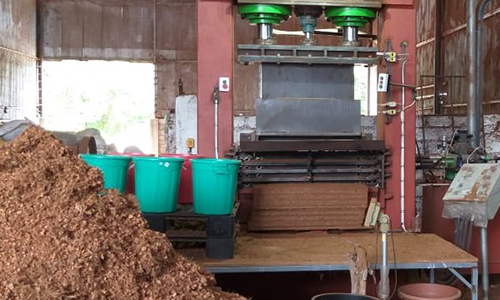 The most popular growing media among Green House Growers worldwide are Grow Bags.
Hortigrow Substrate grow bags have become a popular choice for multipurpose growing medium for vegetables, fruits & flowers. Our grow bags are 100% natural and made up of a special  blend  of     coir pith and chips, designed to provide the ideal air to water ratio for hydroponics. Our strict quality control measures with our own cocopeat produced at Fiber Mill ensures that only the best coir products reach our customers.
Grow bags are packed in high density, co-extruded plastic bags, which are UV treated at least a minimum of 2 years. Another advantage is that they are easy to transport before re-hydration and can be stocked for months as they are compressed.
Three types of cocos available in washed, unwashed & buffered form.
Grow Bag Specification.
| | | | |
| --- | --- | --- | --- |
| Material Grade | High EC | Low EC | Washed |
| Bag Size (L x W x H) |   90 x 15 x 15cm 100 x 15 x 12cm 100 x 15 x 10cm 100 x 18 x 12cm 100 x 20 x 12cm Size Can Be Customized. |   90 x 15 x 15cm 100 x 15 x 12cm 100 x 15 x 10cm 100 x 18 x 12cm 100 x 20 x 12cm Size Can Be Customized. |   90 x 15 x 15cm 100 x 15 x 12cm 100 x 15 x 10cm 100 x 18 x 12cm 100 x 20 x 12cm Size Can Be Customized. |
| Material Mixtures | 100% Coco Peat 100% Coco Chips 70% Chips 30% Peat 50% Chips 50% Peat Mixtures Can Be Customized. | 100% Coco Peat 100% Coco Chips 70% Chips 30% Peat 50% Chips 50% Peat Mixtures Can Be Customized. | 100% Coco Peat 100% Coco Chips 70% Chips 30% Peat 50% Chips 50% Peat Mixtures Can Be Customized. |
| Electrical Conductivity | <2ms | <1ms | <0.5ms |
| pH | 5 – 7 | 5 – 7 | 5 – 7 |
| Bag Quality | 1 Year / 2 Year UV Treated Printed Bags | 1 Year / 2 Year UV Treated Printed Bags | 1 Year / 2 Year UV Treated Printed Bags |
| Quantity / 40Hc | 8000 – 12000 Bags | 8000 – 12000 Bags | 8000 – 12000 Bags |